'There are only so many hours in the working day and no matter how I juggle things around, it's the workload that is the problem.  I'm run ragged as it is and this is just my managers putting on the pressure to squeeze more out of me.  Why should I take time out to be lectured at about how inefficient I am. It's all very well in theory but it won't work in my job.  I could do with that time. I'm struggling as it is!'
Sound familiar?
This course shatters this preconception.
This is no ordinary time management training.
In Terrific Time Management we don't ask you to sit and listen to us telling you about all the processes you can use to 'manage your time'.  Instead, we use engaging interactive learning and forum theatre to show you how communication can help you be more in control of your time.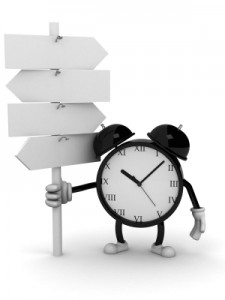 On Terrific Time Management, the delegates will learn about:
Communicating with your managers and your teams
Managing expectation
Orgainising and prioritising
Controlling the controllable
Identifying the 'thieves of time'
Delegation and when to say 'no'
Handling deadlines
Fighting the fires
Why you need to take a break
Analysing their daily activity
Delegates will take away:
An understanding of how they, as individuals, work best
A confident, less stressful way of working
How to work effectively, not just efficiently
A toolbox of techniques for time managemetn
Who is this training for?
Everyone who wants to use their time more effectively.
Everyone who feels overwhelmed by what they have to do in a day.
Everyone who feels they rarely or never get through their 'to do' list.
Course Duration
Course Delivery and Style
Terrific Time Management is led by a Trainer and Professional Actor.  There are teaching segments, exercises to make sure delegates really understand the concepts and skills practice with professional actors using role play and/or forum theatre enabling the delegates to get the best possible learning experience by trying out real life situations in a safe and non-judgemental environment.  This includes the delegates helping a struggling employee to find new ways of working 'smarter' that will not only help him keep up with his workload but also make his job more rewarding and less stressful.
Content is tailored to your company and delegates specific needs.
Please CONTACT US for more information or to discuss your requirments.