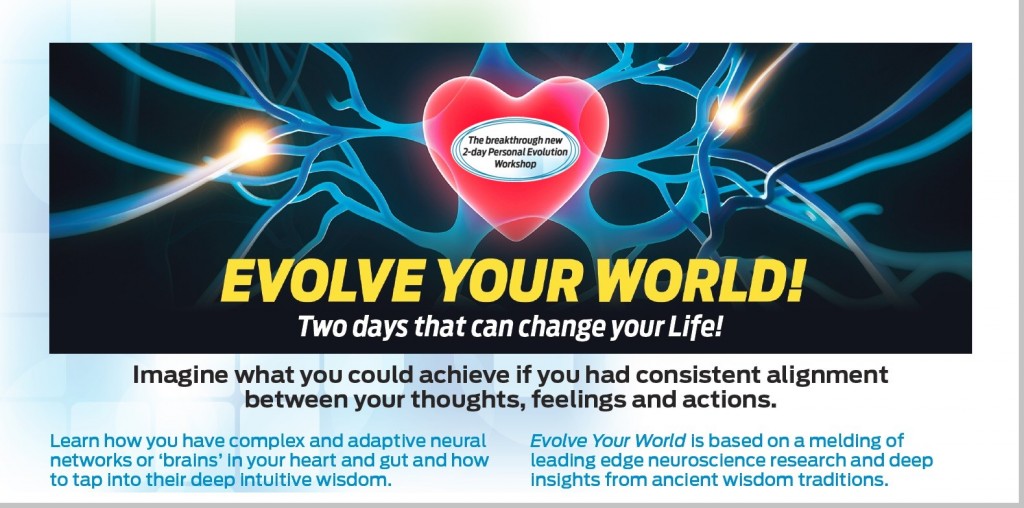 'Evolve Your World' is a brand new, transformational personal development programme and it is new to the UK.   Sensability has developed this programme with special focus on actors and creative professionals.
Do you feel there is more to you than you are bringing to the world at the moment?
Imagine what you could achieve if you had constant alignment between your thoughts, feelings and actions. Neuroscience has established that we have 3 brains – one in our head, one in our heart and one in our gut. 'Evolve Your World' shows you how to tap into the deep intuitive wisdom of these complex and adaptive neural networks.
We will introduce you to the language of your 3 brains, so you can learn to tap into their knowledge and share with you mBIT (Multiple Brain Integration Techniques) breathing which helps you to be calm and focussed. We'll also tell you about some of the background which has led to the development of the 'Evolve Your World' personal development programme and mBIT (aka mbraining) itself.
There are only a small number of licenced trainers and coaches of mBIT and of the 'Evolve Your World' programme in the world, and Michael Eaves and Alison Matthews from Sensability have been trained by one of the Co-Creators, Grant Soosalu.  With their background in acting and behind the scenes in TV and film, they are unique in developing this programme for actors and creative professionals.
For more information and to book your place on the next 'Evolve Your World' training, please EMAIL US now!
Next Workshop:  Spring 2017 Please email to register your interest.
Location:  London
Price:  £245.    Discounts available for members of Equity and BECTU.  EMAIL US for more details and how to book.